In my continual efforts to manage the chaos, I have been looking at charging stations for cell phones, ipods etc. The ones that I have found are $40, and that is at a discount store. I just couldn't pay that much. I found the materials, and I made my own for $6.00. I am quite proud. Here it is, and then I will tell you how I made it.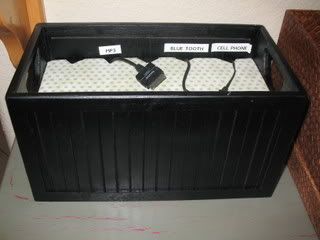 I found the wooden box unfinished at Michael's for $6.00. I made a frame around the inside with foam core that I already had, and made the top part out of foam core covered with scrapbook paper, but fabric would be good. I cut a hole in the back of the box (with my dremel) for the cord to come out. You have to remember to make the notches in the top part of foam core before you cover it or you will have to rip off the covering and do it again (it's easier the second time though). Here is a picture of all of the materials.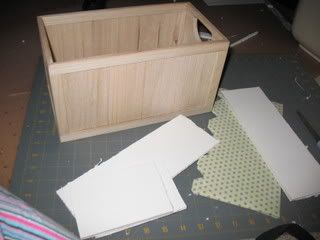 **** I often will link to things on Amazon. These are usually affiliate links that will pay me a couple of dollars if you happen to buy something while there.