So, I have enjoyed doing digital scrapbooking. It is not as messy as regular scrapbooking, and I can make multiple copies of my pages to give as gifts. If you have an interest in it, I learned about how to do it at the digital scrapbook place. I will put some other scrapbook links on my page too. You can get free background pages to download at many digital scrapbook sites.
Here is an example of my pages. This was a trip we took in our travel trailer for spring break the year before last.
I use Photoshop Elements
to create my pages.  I have downloaded many free background papers and elements, and then I arrange everything using photoshop.  There is a bit of a learning curve, but once you catch on to it, it is not too hard.  You can also buy a cd that has backgrounds
and elements on it.
Here is a scrapbook page that Megan did of a 4th grade field trip to Sacramento.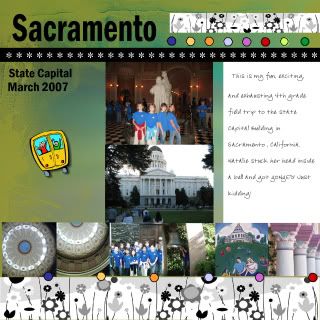 This one is one that Conor did of a trip to Yosemite.

**** I often will link to things on Amazon. These are usually affiliate links that will pay me a couple of dollars if you happen to buy something while there.