Our community had a community wide garage sale, so I was thinking about all of the things that I could get rid of during the sale, and I thought of this little table that has been sitting in the garage for years. Then I thought that no, I could not sell a solid wood perfectly good table even if I don't love it. So I was thinking about what I could do to it to make me love it. I came up with some great ideas, but I realized that I can't do the invasive things because this is a true antique washstand from the 1800's in what appears to be original condition. It would be wrong to do things to it. Here it is, and then I will tell you what I wanted to do, and what I still may do.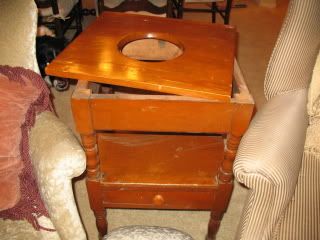 Notice the top of it is not attached. I will fix that at some time. One problem is it being a wash stand, it has this hole in the top of it for the bowl and pitcher. I found a little plate that fits the hole perfectly, and secured it with repositionable glue stickers. I also got a little lamp for it.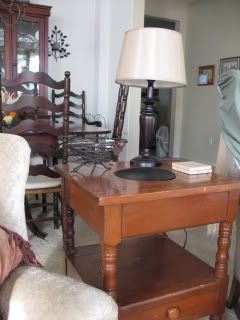 Now what I really wanted to do. I was going to paint the whole thing black, and cover the top with slate tiles. I think that I will still make a top that can be set on top of the current top and cover it with slate or something similar. We will see, and so will you if I ever get to that. In the meantime, it is funcional, looks pretty good, and stuff won't fall through the center of it.
**** I often will link to things on Amazon. These are usually affiliate links that will pay me a couple of dollars if you happen to buy something while there.